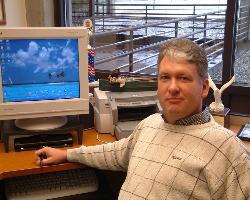 One of the benefits that are often overlooked as members of AFT is the Virtual e Gold card. Remember, it is that little black plastic credit card looking thing that we received at the first of the year and stuffed away in a drawer some place. I found that the e Gold card is accepted at numerous restaurants and other business establishments in our area as well as places we may visit while traveling across the United States.

Each day the faculty in our department leaves campus to eat lunch and enjoy an hour away from the daily challenges of a college professor. Using the e Gold card allows us to save money in numerous ways. You can receive two-for-one deals and many other money saving offers. I have also taken advantage of substantial discounts on hotels across the nation while traveling with my family and friends. Over an extended period of time these savings can add up to a surprisingly and substantial amount.
To use the Virtual e Gold card just visit the state AFT website and look under the Member Benefits link. You can create a search for the types of services you are looking for and the geographic area you would like the search to include. Although the e Gold card is recognized by most businesses listed by your search, I have found it to be beneficial to print out a hard copy of the savings that are promised. Occasionally, you will encounter a new employee that is not familiar with the program and by showing them the print-out, I have never been denied any of the services listed.
If you haven't taken advantage of the Virtual e Gold card, you just as well start some time. When you get a minute, try rummaging through your drawers and find that envelope you stashed away months ago that contained the card. You will find that it is easy to use and very beneficial to do so.
Take care,
Darin Taylor
Professor, Engineering Graphics & Design Technology
Utah Valley State College